Today, YouTube's beauty category has a huge number of followers. The platform has become the biggest and important place for major makeup brands. Beauty and makeup companies debut their products on YouTube. This time, Google's AR Beauty Try-On feature will help you as a YouTube user to virtually try on makeup along with watching video tutorials.
In this summer, Google will bring Augmented Reality makeup feature on YouTube. The idea behind is to join an interactive Ad with a beauty vlog which is talking about a cosmetic brand. A Virtual Try-On pops on the screen and you can look yourself wearing the product.
One of the cosmetic brands, M.A.C Cosmetics will be the first brand to launch its AR Beauty Try-On marketing campaign on YouTube. M·A·C will run influencer campaigns for 2 billion monthly active users and check their results, all in real time.
YouTube is launching AR Beauty Try-On tool
The AR Beauty Try-On feature will split the screen, and play YouTube content on the top half of it. Using the phone's front cameras it will capture you. Then AR filters will let you show and apply virtual makeup samples, that shows in the lower half of the screen.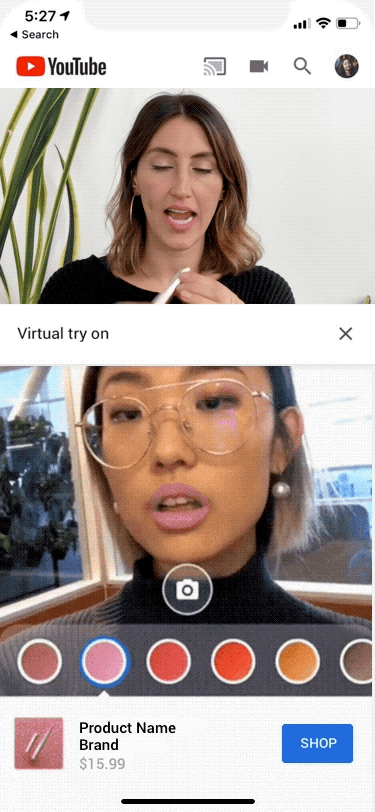 The tool will work on a complete skin range and tones. Google has already experienced and tested this tool for a year with some beauty brands. As a result, it found that 30 percent of users have used the AR experience in the YouTube iOS app. Also, their average spending time was over 80 seconds to trying on lipstick virtually.
Still, in alpha, the AR Beauty Try-On tool is available through FameBit by YouTube, which is Google's branded content platform. Also, It'll be on the brand's wish to deploy the Virtual Try-On. Already a big number of beauty vloggers are there on YouTube, so the beauty tool will likely to help you regarding makeup ease.
Also Read: Augmented Reality technology a leading tech innovation